Glenwood Springs Area Real Estate
Understanding the Glenwood Springs Real Estate Market and Navigating the Glenwood Area Propety Listings.
Located in Colorado's Roaring Fork Valley.
Glenwood Springs offers a great diversity of homes from historic downtown to modern townhomes, from river-front retreats to mountain view cabins, and from ski condos to family ranches,the options are almost limitless. Here is what others are saying about Glenwood: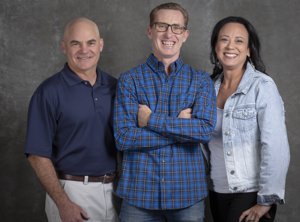 GREG ROSENMERKEL JULIAN HARDAKER COURTNEE VASHUS
970-404-8181 970-309-5169 970-456-6850
A full time Realtor since 2003, Julian has been voted the "Best Realtor" 4 times by the readers of our local newspaper, the Post Independent!
Courtnee has been involved in the Real Estate industry since 1999 and a licensed Realtor since 2003. Excellence and Integrity are hallmarks of Courtnee's approach.
A retired Air Force Colonel, Greg knows first hand about buying and selling Real Estate. His family had moved 13 times prior to landing in the Roaring Fork Valley 10 years ago!
Thinking of Relocating here?
We specialize in working with out of town buyers. We can prepare videos of specific properties for you and even skype / face time with you as we walk through a property. Lets talk! Please call us at 970-456-1860.
Our valley has a small town feel with big city amenities surrounded by pristine wilderness and the world class ski resorts of Aspen, Snowmass, Buttermilk and Aspen Highlands. Aspen is 40 miles away and single family homes begin at $4M. As you head down-valley through Basalt, Carbondale, Glenwood Springs and New Castle, the prices drop significantly, with single family homes in Glenwood Springs starting at around $700,000 and $550,000 in New Castle.
Nothing needs to be said about the skiing, but as local residents will tell you, there is so much more; world class fly fishing on the Colorado, Roaring Fork, Crystal and Frying Pan Rivers. Enjoy Incredible mountain biking on trails like the Scout Trail above the Glenwood Canyon or the Ridge Trail above Snowmass Village. Hike to your heart's content (if not your lungs!) on trails like West Maroon Creek above Aspen and Hanging Lake in the Glenwood Canyon. The Roaring Fork Valley has a rich selection of both public and private golf courses designed by renowned architects such as Jack Nicklaus, Jim Engh and Jay Morrish.
If it's relaxation you are looking for, the World's largest natural Hot Springs in Glenwood or the Yampa Spa will fit the bill. With over 300 days of sunshine a year and almost no humidity we get to enjoy evening sunsets on the deck (with no screened in porches!) and the words "mostly cloudy" and "overcast" are practically unknown.
A cornucopia of cultural events brings in luminaries from around the world whether it be presidents and nobel laureates at the Aspen Institute, leading classical musicians at the Aspen Music Festival, top athletes at the USA Pro Cycling Challenge , World Cup ski races and the Winter X Games at Buttermilk , or world-renowned musicians at venues like the Belly Up in Aspen, PAC3 in Carbondale or Jazz Aspen Snowmass.
Unlike some other more isolated mountain towns, here you are close to the everyday stores like Target, Lowes and Whole Foods. Our nationally ranked hospitals (Valley View in Glenwood Springs) not surprisingly attract some of the top physicians in the country. Educational opportunities abound through the many campuses of Colorado Mountain College up and down the valley. As well as Associate's and Bachelor's degree offerings the classes are open to area residents.
TheBestWayHome.com is the place to find homes for sale in Glenwood Springs Colorado, the best realtors in Glenwood Springs Colorado and information about the Glenwood Springs Colorado real estate market and the home buying / selling process in general. If you are thinking about buying or selling a home in Glenwood Springs, the real estate agents at The Best Way Home can help you.
Stop by our real estate office in Glenwood Springs just behind the main Alpine Bank